Download the
Product Guide (full version)
or visit the product links in the navagation menu.
Geology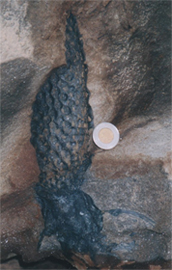 Near Pynn's Brook, bluestone is quarried from Lower Carboniferous rocks. These were formed 350 million years ago in a delta, similar to where the Humber River flows into Deer Lake in Western Newfoundland.
Pennsylvania bluestone was used extensively in the 19th century for paving, sidewalks, kerbs, cobblestones, walls, and buildings in the cities of northeastern USA. In the past 20 years a resurgence of use has occurred with the major market being patio stone, benches, steps, walls and paths in landscaping.
Comparable flagstone is quarried in the US and at the Cliffs of Moher, west Ireland, and in Yorkshire, England (Millstone Grit).
Since the deposit is a fossil beach, any texture you find on a sandy beach is found in our stone. Many specimens are of museum quality. Most natural stone surfaces have an attractive riven texture with mild irregularities.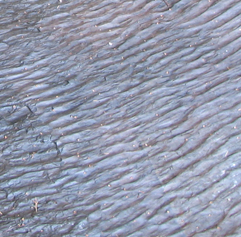 Geological features include:
ripple marks
mud cracks
rain pits
fossil vegetation
load cast and slump structures
volcanic ash
sedimentary layering
Other exotic natural features include:
curved slabs (channels for waterfalls)
bowl shaped slabs (for birdbaths)
Zen quality blocks and slabs
slabs with drill holes (useful for fountains)
(back to top of web page)